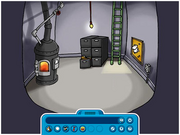 This article is a
Medium Quality Article
.

The Boiler Room was a secret place in Penguin Chat 3. The Boiler Room still exists in Club Penguin, but it is much more colourful than the one in PC3. The only way you could enter to the Boiler Room it Penguin Chat 3, was by clicking the bottom right of the screen while in the Night Club. It was a very secret place in Penguin Chat 3, not many penguins found it. It was always hidden, and was the darkest room in Penguin Chat 3.  
In Club Penguin, penguins can enter to the Boiler Room by the Night Club, the cave and/or by the EPF Spy Phone/Spy Phone.
Many penguins thought that the was a ninja/samurai hideout because of the dark colors.
The filing cabinet in Club Penguin is green instead of black.
In Club Penguin, you can open the filing cabinet and read the last six issues of the Club Penguin Times - a newspaper that appeared in Club Penguin.
Ad blocker interference detected!
Wikia is a free-to-use site that makes money from advertising. We have a modified experience for viewers using ad blockers

Wikia is not accessible if you've made further modifications. Remove the custom ad blocker rule(s) and the page will load as expected.